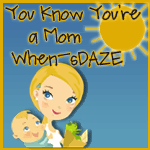 I am linking up with this new Mom Blogger.
With this i share events from the week that show i am a mom and post pictures. However, this week i will be picture free!
You know your a mom when you are sitting on the potty having a conversation with your child about what they want for a snack.
You know your a mom when the biggest event to talk about for the week is that you had to ground your 5 year old. And that is all you can talk about.
Hopefully next weeks will be more intresting!