That is Bobby (tabby) and Pattycake (orange and white), our 2 male cats that just love each other so much. I have never seen 2 other cats that love one another so much.

We had a pretty good week. Kids went to bed early. We are heading down to Augusta this weekend. We have a date to have some cake with Alex's grandparents. Our house was suppose to be shown today. And we were told the guy was very intrested. House was in the perfect location and he needed in fast. So, i cleaned my butt off yesterday and it was a no show! Go figure that would happen. He is a truck driver and works late i was told. So, hopefully he will still come this weekend to see it while we are gone. This process is defiently frustrating. 2 no shows now and no showings. Ugh.

Hopefully soon Alex will have his resume together and we will be on our way onto a new adventure. I think he is ready :)

Ethan is very ready for school and i am very ready for him to go. I am ready for a little time without 2 kids fighting. :) But will miss him very much too. I can't believe he won't be home for lunch. how strange!

Here is a picture of a rainbow we had here the other night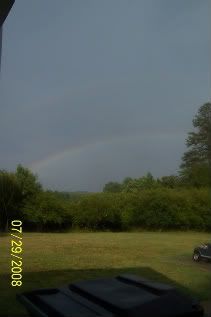 Ethan was very excited about it. Oh, and his hermit crab Carl who we have had almost a year now changed shells! Yay! Carly is next...but she seems like she still has plenty of room in hers.

Off for the weekend! Have a great weekend to all!