Go link of with Julie at Foursons and add your Letters of Intent!
Dear Flies,
You are pests, really! Only now, besides the normal amount of money i spend on bug control, you just cost me $85. You pests ask how? Apparently one of you landed on one of my kitties face at some point. You left your larva on her face. Your nasty larva then climbed into my kitty either through her nose or her mouth. THEN your larva crawled through my kitties body until it found somewhere it liked according to the vet. Then what did you larva do TURN INTO A WORM THAT WAS EATING MY CAR FROM THE INSIDE OUT!!!!!!!! Disgusting, absolutly disgusting. My car has a hole in the side of her body the size of a silver dollar! Its got pus and blood and just gross. My cat is going into a depression because she has to wear a cone on her head. She can't figure out how to sleep with it. She cries all day. Thanks flies! Now everytime i kill you pesky things i won't feel bad!
from,
one mad kitty mama!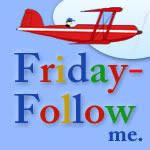 If your here from Friday Follow Me, i am a mom blogger and a book blogger if you check the side bar for my book blog. I like to write about funny happenings on here. I do my best to keep up with the blogging world, but sometimes get left behind.